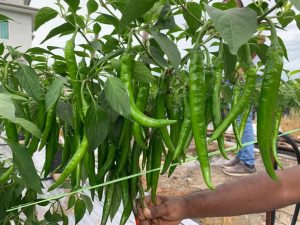 KENSO Seeds part of the KENSO group has been developing and trialling unique hybrid vegetable varieties across a number of markets for several years. Hard scientific work has paid off with the introduction to the Malaysian market of a new hybrid chilli variety RED MOON.
RED MOON joins a protected cropping gourmet tomato known as PERFECTO CH and soon to be added GOLDEN MOON Melon and oriental cucumbers to the range.
RED MOON is a smooth glossy skin type chili and produces firm deep dark green colour fruit ripening to bright deep red. RED MOON is a high yielder, has continuous fruit set with consistent fruit size. In small scale through to commercial size trials the variety has shown excellent tolerance to chili Anthracnose during wet season planting. RED MOON is ideally suited to fertigation systems as well soil planting. The harvested fruit is being well accepted by the wholesale market and recognised as cili kulai or cili minyak.
Please feel free to get in touch with us to get more information on the variety or if you're interested to purchase.